The shopping center River Town Prague, formerly known as Holešovice's Market, is one of the largest retail complexes in Prague. It covers an area of 110,000 square meters and comprises listed buildings from the 19th century. Today the former Prague slaughterhouse serves to customers not only from Prague and the Czech Republic. Thanks to the wide range of goods, the market has become a popular target of shoppers and customers from throughout the Europe. River Town Prague is located in Prague 7 on the very bank of the River Vltava and has excellent links to the city centre which is only a couple of minutes away by car or public transportation.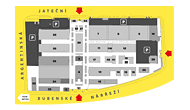 More than 12 million customers a year come for shopping and they appreciate the wide range of goods in River Town – both demanding customers and those who want high quality goods for low prices will satisfy their needs. Very popular is also the fresh market which offers a wide range of fresh fruit and vegetables.
"In addition to the shopping River Town Prague offers to the visitors a quality Italian restaurant Golem, the popular McDonalds and a number of fast food stands. In the near future it is planed to open here other restaurants, coffee shops, bars and also a discotheque"
Contact:
Prague River Town
Bubenské nábřeží 306
170 04 Praha 7
Tel: +420 220 800 945
e-mail: info@rivertownprague.cz
Web: www.rivertownprague.cz
Open Hours:
Open daily from 19.00am to 21.00pm.
Photo Gallery:
« « Shopping Centre Metropole Zličín, Prague | Plaza Alta Hotel ****, accommodation Prague 1 » »